When the winemaker's passion is a shared joy.
LIVE AN EXCEPTIONAL MOMENT
Open cellars in the canton of Vaud
Saturday and Sunday 27 and 28 May 2023
Quartier du Cloître - Aigle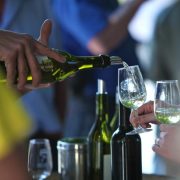 The Caves ouvertes vaudoises in Aigle, it is a real festival which awaits you. Indeed, most of the winegrowers of our appellation are present with stands in the pretty Quartier du Cloître. Come and taste the wines of the different cellars while walking around the Castle of Aigle.
On the program
Wine tastings in the different wineries and stands
Musical animations
Rates & Reservations

Adults CHF 40 per tasting glass for the 2 days, valid throughout the canton
Without reservation
Saturday, June 24, 2023
ASD - Aigle Station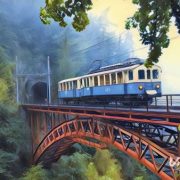 Come aboard the ASD's historic "TransOrmonan" train and let yourself be carried away by time on this magnificent railroad line linking Aigle to Les Diablerets. While enjoying the sumptuous landscapes, we propose you to taste 6 of our wines accompanied by various local delicacies.

On the program
Travel by ASD historical train from/to Aigle station, wine tasting and gourmet snacks

Rate
Children up to 5 years: free, Children from 6 to 14 years: CHF 25.00
Adults (from 15 years old) : CHF 55.00/person
The train ticket including the tasting will be cashed on the spot, by cash, card or twint.
Available seats: 80 people.

Reservations
www.cave-emery.agenda.ch


Open cellar of the grape harvest
Saturday 30 September 2023
Cave Alain Emery - Aigle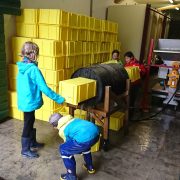 up-date weather
It's going to be nice and warm!
Bring your hats and water bottle…
We invite you, as every year, to visit us during our open cellar days in the heart of the harvest. Share with us this convivial moment and come to live this festive moment during a harvest day. Of course, you are welcome to bring your family, friends and acquaintances.

On the program
Free participation in the harvest in the morning and/or afternoon, aperitif offered, raclettes, tasting of fresh must and our wines. For the children: harvest with the parents, games corner, grape and juice tasting.

09:00 Discovery of the harvest
11:30 a.m. Morning session followed by an aperitif
12:00 Raclettes and drinks according to price list
13:00 Discovery of the harvest
17:30 Pressed evening followed by a free aperitif
Rates & Reservations

Free of charge (except for lunch)
Reservations are recommended but not necessary. Please contact Rahel Isenschmied +41(0)79 286 68 74

24 and 25 November 2023
2, 9 and 16 December 2023
Cave Alain Emery - Aigle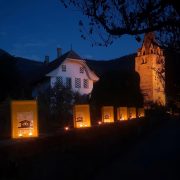 2 and 9 December 2023
Advent activities our neighborhood
This year again, we invite you to visit us during our open cellar days around the wood fire in our yard. Don't miss our naugural evening of the nativity scene trail "Crèches du Cloître Aigle" on Friday 24th November.
Opening times

Friday 24 November from 15:00 to 20:30
Saturdays 25 Nov, 4 Dec, 9 Dec and 16 Dec from 10:00 to 20:30
On the program
Free tasting of our wines
Nordic style salmon cooked on a wood fire from 4:30 pm
Mulled wine and Elixir of the Three Kings
Sale of wines, gift boxes and small gourmet Christmas market




Cribs and Nativities Aigle
from Friday 25 November 2023 to
Sunday, January 9, 2024
Quartier du Cloître - Aigle
Free stroll, easy access, to discover more than 40 cribs, nativities and collections of santons from Provence presented in the windows and festive decorations. A visit to the Church or the Castle (open until 19:00) will perfectly complete this joyful family outing.


Easy and free access
7 days a week from 10am to 10pm


Flyer 2023
Map 2023
Agenda events 2023 (en français)


For more information
Rahel Isenschmied – 079 286 68 74
Raymond Graf – 079 679 14 23